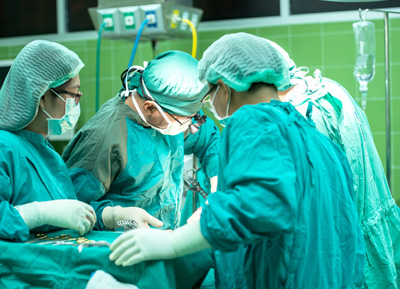 Just as important as the surgeon, the Anaesthetist plays a critical role in the success of the operation. Before the operation, the specialist Anaesthetist will talk to the patient and discuss the anaesthetic to be administered. The Anaesthetist will gather information with regard to the patient's medical history to determine the appropriate anaesthetics to be administered.
During the operation, the Anaesthetist will be there the whole time to monitor the patient's reactions. If needed, they will vary the anaesthetic appropriately to keep the patient unconscious until after the operation. The Anaesthetist also monitors the patient's blood pressure, breathing and other vital signs during the procedure.
The role of the Anaesthetist may continue after the operation to make sure that the patient feels comfortable.
Your anaesthetist will care for you continuously during the operation. Usually you would receive an injection on your hand or arm. There are other techniques like epidurals, spinals or locals which would have been discussed at your pre-anaesthetic assessment. A number of special machines called monitors will be attached to you just prior to the commencement of anaesthesia. These monitors will remain on you for the duration of the procedure and assist in making sure your anaesthetic goes smoothly.
Following your procedure, you will be transferred to the recovery room, which is part of the operation theatre area.